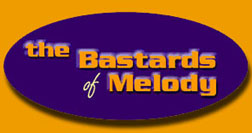 Break Up Reviews

The Big Takeover
Where is the G-spot where garage and power-pop meet? That might be a question to ask Jersey City, NJ's well-named Bastards, who continue what they did on 2001's debut Fun Machine only with the engine purr more streamlined, like after a tune-up. Crisply recorded, these guys pile on singer guitarist Paul Crane's hooks with vaguely '60's Kinks or '70's Cheap Trick choppy riffs, plenty of nicely chunky early Replacements charge, and some Sloan big-guitar pop. Sometimes they go for broke with straight ahead, 4/4 thick guitar rock 'n roll, like on the opening "What's on Your Mind," Ball & Chain," and "Way to Now"; sometimes they're more jangle pop, like "Cheat"; and there's even one acoustic-only folk track (very Paul Westerberg!) for balance. It's all good. Energetic and sweaty but still mannered, these Bastards could have worn matching suits with special-cut collars and rocked if they were from 1963. Or they'd be a big act in the 80's U.S. underground, touring with the young Soul Asylum. Highly enjoyable!

Amplifier Magazine
Bastards of Melody are a relatively new band who, fresh on the heels of their acclaimed debut Fun Machine, have returned with a sophomore effort that hardly misses a hook filled beat. The New Jersey based four piece play a nofrills, mid-fi brand of power pop that draws equal inspiration from gritty garage rock, late-70's power pop to Ramones-style punk. Through the grit and guitar crunch, the melodies ring through and the emphasis on hooks is strong. Where BOM really shine is when they drop the formulaic 4/4 power pop for heartfelt simplicity on tracks like the acoustic "This could be your life" and the sonically drenched "Spiral Notebook." Overall, Break Upis a basic blueprint for power pop; but try to get the songs out of your head after repeated listens and you'll discover that this band is aptly named.

Jersey Beat
Indie, emo, post-punk, anti-folk… we've got way too many labels these days and not nearly enough good rock 'n' roll bands. So here's a tip of the hat to the Bastards of Melody, who realize that good songs and a nice melody are still what count. The Bastards' first few records always had a few outstanding tracks and, alas, some filler; but with Break Up, singer/guitarist Paul Crane and company have come up with an album's worth of top-notch tunes. From the uptempo oomph of the opening "What's On Your Mind" to the party fun of "Erin's 25th" to the slacker anthem "Fuck Wakin' Up," there's just one punchy, bouncy, head-bobbing tune after another. The Bastards have always been compared to the Replacements and I think I've finally figured out why; Crane, like Paul Westerberg, has a voice that's instantly likeable. Here's the guy you'd want to be sitting next to at a bar if you were stranded in some strange town without any friends. So whether he's singing about the ups and downs of relationships or just laying his heart on the line (as on the beautiful, acoustic "This Could Be Your Life," an indie rocker's lament inspired by Michael Azerrad's book Our Band Could Be Your Life), all you get is the real deal: No poses, no bullshit, no attempt at being trendy - just a guy and a guitar and – as the opening track goes – what's on his mind. Let's not forget the rest of the band – lead guitarist Bill Zafiros, drummer Jeff Prosetti, and since-departed bassist Scott Tully.

Tris McCall
Break Up epitomizes the virtues of Jersey rock, and if you're a Jersey rocker yourself, you ignore it at your own peril. All the songs are instantly recognizable, winning, proudly traditional and chum-on-the-corner likeable, and if you've followed the group for the past few years, you'll be thrilled at the sonic fidelity, attention to detail, and compositional consistency. Singer and rock and roll lifer Paul Crane delivers the songs with two-fisted integrity and a rough charm, and performs with great command and capability. I'm pleased to hear an emotionally affecting read on longtime fan favorite "Erin's 25th", and good-humored versions of "Cheat" and "Fuck Wakin' Up". This is urban music, discharged with rust-belt sincerity and working class integrity.

Aiding & Abetting
Speaking of the Replacements (or, more accurately, Paul Westerberg), here come the Bastards of Melody. They have that Sire-era 'Mats style down (slightly sloppy, but still tuneful and generally recognizable as "normal" music), and they write nice three-minute pop songs. With titles like "Fuck Wakin' Up." Though, to be honest, most of the songs are relatively clever. Take "Cheat," a song which details the quintessential high school experiences of cribbing for a test and trying to impress a girl. They write it better than I explain it. Trust me. Just ragged enough to play at top blast on the car stereo, and with tight enough hooks to sing along--just out of tune so as to sound really cool. A bright blast in the middle of winter.



Fun Machine Reviews

Space City Rock
Just who the hell do these guys think they are? "Bastards of Melody," indeed. Well, the sad truth is that this is one of the finest pop records I've heard in years. This just pisses me off. How come I'm not hearing em on the local radio show? Why aren't they on Letterman? Why doesn't Fastball open for them? Jeez. Take a little Weezer, a dash of the Replacements, and viola! Cool as it can be pop melody-laden rock with no pretenses. I'm a fan. I know it's hard to write a good pop song that's not trite, boring, or simply stupid, and this band does it again and again and again. Great melodies, hooking like a box of lures. Almost all the songs speak of relationship problems, and they do so with great humor, honesty and disarming openness. It makes me sick...this much talent should not go unnoticed. Get this CD. Or, you can wait and see em on Letterman, but by then you won't be able to say, "I knew 'em when..." (Note to the editor: you better send me the next installment from Bastards of Melody to review. By that time, this CD will probably be worn out.)

Performing Songwriter
Bastards of Melody may be the textbook definition of "power pop." They come straight out of the Cheap Trick school of hook, power, and melody but remain hungry, lean, and relevant. Their newest CD, Fun Machine, has a little bit of everything for those pining for a straight-up guitar rock savior—there's a little Clash, some Replacements, a touch of Big Star. In other words, it's gutsy, voracious, and tough. From the Weezer-reminiscent opener "Join Me" through the '70s arena-rock feel of "Rewind," Bastards of Melody prove that they know their rock and roll and they know how to play it well.

NY Rock
By the fourth cut, I'm floored - the first three have been gems, with outstanding production by James Mastro, sounds coming and going, surprises left and right, beautiful chords and melody, and I wonder, can they keep it up for all 13 cuts? Heck yes. Though the styles may change slightly - "Billy on Guitar" is a heavier, fat-amp sounding rocker while "Ain't Enough Hours in the Day" is a Byrds-like ballad - you feel the hooks oozing out. Even a cut like "Hopin' I Might Die Instead," a rootsy lo-fi number, sounds a bit out of place at first, but eventually cleans up. By the last song, "Vibe," a Brit power-pop influenced number, I'm wondering where these guys have been all along. Fun Machine lives up to its title and then some.

Aiding & Abetting
Good old fashioned rock and roll. Like the sorta thing that Cheap Trick used to play eons ago. Loud, fast and almost criminally hooky. There are a few nods to more recent developments (the odd jangle anthem--and these boys even that well!), but simplicity is the word here. Another big key is the way Bastards of Melody never lets the energy lag. Even on mid-tempo songs there's an insistent groove that keeps everything in motion. There just isn't time to get bored while listening to this disc. The kinda album that makes you want to buy a convertible and drive up and down the Florida Keys. Raucous, joyous and all that. The thick sound ties in with the tight arrangements to ratchet up the fervor that much more. Maybe not a perfect album, but a pretty damned good one. I really can't come up with any serious complaints at all. If Bastards of Melody doesn't make your soul bubble open with joy, then you're already dead.

Indy Only Radio
Bastards of Melody deliver a pop recording without the fluff! Strong melodies from vocalist Paul Crane, great guitar riffs from Bill Zafiros, pumping bass from Pat O'keefe and Jeff Prosetti on drums consistently bring each song to an exciting climax. Track after track this band has made one thing very clear "They want you to get off your ass and dance!" If you are into dark, reflective, "someone please feel sorry-for-me pop", this is not the band for you. If you are looking for a great party record this Summer, for your Hamptons house or maybe your house on the Shore, GET THIS RECORD you will not be disappointed!

Suite 101
These bastards sure know how to write a hook. Fun Machine is a pop-punk joyride that lives up to its name. The group's sound is an interesting mix of eighties alternative groups like the Replacements and the Pixies; punk rock like Green Day or Weezer; and a little bit of country twang. The melodies are memorable, the guitar work is top notch, and the lyrics are intelligent and entertaining. The combination makes for an impressive full-length debut, and it also makes for a promising future for Bastards of Melody.

New Brunswick Underground
From the London Calling-meets-Weezer-ish punk rave-up of "My Latest Obsession" to the southern-fried retro blues of "Billy on Guitar" to the brit-inflected "Fascination" Fun Machine never fails to deliver…and pleasantly surprise. Ex-Bongo and scene svenghali James Mastro's tasteful production gives the album a real organic vibe, with organs, percussion, and backing vocals spicing things up tastefully and unobtrusively.

- Mike Doktorski
Go Out
The Bastards of Melody came together and created a sound that takes as much from the Pixies and the Replacements as it does from alt.country twant and West Coast pop. It's a fun, unbridled melodic mix that comes through in the band's latest James Mastro produced release "Fun Machine," released in February on the bands own Ransom Records label.
- Jason Notte
Jersey Journal
The Bastards of Melody champion priorities like good, strong melodies and intelligent songwriting and the camaraderie that comes from sharing a common passion. Their new CD, "Fun Machine," produced by longtime Hoboken scenester Jim Mastro, picks up where band's debut EP, 1999's "Keep It Down," left off, a solid, tuneful, upbeat mix of pop and punk with a touch of country twang. (Read The Article)
- Jim Testa
Live Reviews
Covermag Review: CBGB's in New York City
Bastards of Melody was this evening's highlight. The Jersey based quartet pumped out some great power-pop. And even though you could barely catch a lyric, it seemed obvious they had something to say if only for the complexity of sounds sung into the mic. Plus they were the only band that looked like it was having any fun up there. Perhaps they were less worried about their look than the rest of 'em.
- Sharon Preiss
Keep It Down Reviews
Listen.com
For every ten bands out there making run-of-the mill, Xerox-copied rock for apathetic listeners, there's a band like Bastards of Melody who rock like they really mean it. After all, how often do you get to partake of such ambrosial Power Pop? Squeaky-clean guitar chords form the outer core of these songs, while pristine, post-adolescent, altar boy vocals form the luscious center. On the rare occasions when the pop becomes all too pellucid, Bastards of Melody put the pop pedal to the metal and blast off with garage-y rock 'n' roll that takes off so impossibly fast, it leaves skid marks. Kill your radio. Listen to Bastards of Melody.
- Kali Holloway
3:16 Productions
Hailing from New Jersey, post punk popsters Bastards of Melody stay true to their name, giving us tons of melody while being...well you get the picture. With catchy, jangly ditties ("Must Be Stoned,") that seem perfect for the background of an NBC sitcom, this NJ quartet have got their tongues firmly in cheek and an abundance of musical chops on the table ("Born To Raise Hell.") Perfect for the reformed body pierced/over 25 crowd, BOM gives ya smart bursts of punk within well-crafted songs.
- Mike SOS
East Coast Rocker/Aquarian Weekly
Vocalist/guitarist Paul Crane, bassist/vocalist Patrick O'Keefe, guitarist/vocalist Bill Zafiros and drummer/vocalist Jeff Prosetti p[l]ay happy homage to the AM radio hits of their parent's pubescence with a Fountains of Wayne jangle, a Gigolo jingle, a Weezer-ish thump and a Lemonheads-loopy looseness on this unusually-catchy six-song debut. "Born To Raise Hell" is an essential slab of Cheap Trick-meets-Monkees aggro-noize while "Way It Should Be" and "Kick" are the best things to happen to the garage since the debut of the automatic door opener!
- Al Muzer
Jersey Beat Web Page
Bastards of Melody's EP "Keep It Down" named one of Jersey Beat's top 10 releases of 1999

"This up and coming power-pop quartet may just be Jersey City's answer to the Replacements."
- Jim Testa
The Jersey Journal
The Jersey City band filters its jangly power pop through themes of soured romantic relationships and a good night on the town. Its music can be infectiously whimsical like Fountains of Wayne and self-deprecatingly humorous in the vein of Cheap Trick, but there's a lot of good-time raucous energy in the band's guitar solos a la AC/DC and Lynyrd Skynyrd.
- Robert Hicks
Jersey Beat
Bastards of Melody specialize in jangly, catchy power-pop influenced by Sixties icons like the Beatles, Hollies, and Byrds. Guitarist Paul Crane's easygoing, boy-next-door vocals evoke Fountain of Wayne's sense of pop whimsy on the wittily self-deprecating "Must Be Stoned." He gets a bit more gritty on the faster-paced "Dead Soldiers" and the band gets eight miles high for the psychedelized freakout "Born To Raise Hell."
- Jim Testa
What The Fans Have To Say
The Bastards of Melody is a Hoboken, NJ based power pop band. Their music is loaded with great melodies (obviously), catchy lyrics, and driving guitar. I believe this band will hit the airwaves and the charts in the near future.
- Andy (Crash) Crane - Un-Employed Yet Again and Moving Back Home
Bastards of Melody were at Lovesexy last week and were not only well dressed, but very loud
- Elizabeth Walsh - Hoboken Musician
I LOVE this band!!!
- Gigsister (aka Carolyn Zafiros)
[Shows] [Bio] [Music] [Buy] [Interviews] [Radio] [Pictures] [Links] [Pledge] [Contact]